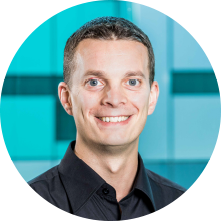 Alex Smith
Business Development Officer
Alex is responsible for driving business relationships that meaningfully engage companies with the benefits of supporting their communities through medical research.
He firmly believes that medical research and technological advancements are critical to a better understanding of today's illnesses alongside prevention and possible cures. It's also a valuable investment in a healthier future. 
Alex particularly enjoys meeting with companies to help develop individual programs that enhance corporate social responsibility – whether that's through positive staff engagement or by connecting companies with a particular area of medical research.

Originally from England, he joined the Royal Adelaide Hospital Research Fund in January 2020, bringing with him extensive business development experience.

Most recently, he spent a decade in the travel risk management sector working with some of the world's biggest companies and brands including Bosch, BMW, Rolls Royce and AECOM.
He's called Adelaide home since 2018 and loves our sense of community and beautiful environment. That's not surprising, as he's a big fan of good food, great wine and exploring the great outdoors.
An avid traveller, he's spent time in every continent with the exception of Antarctica – but it's definitely on the bucket list, along with the northern Arctic region.