Investigating the Safety of E-cigarettes on Your Health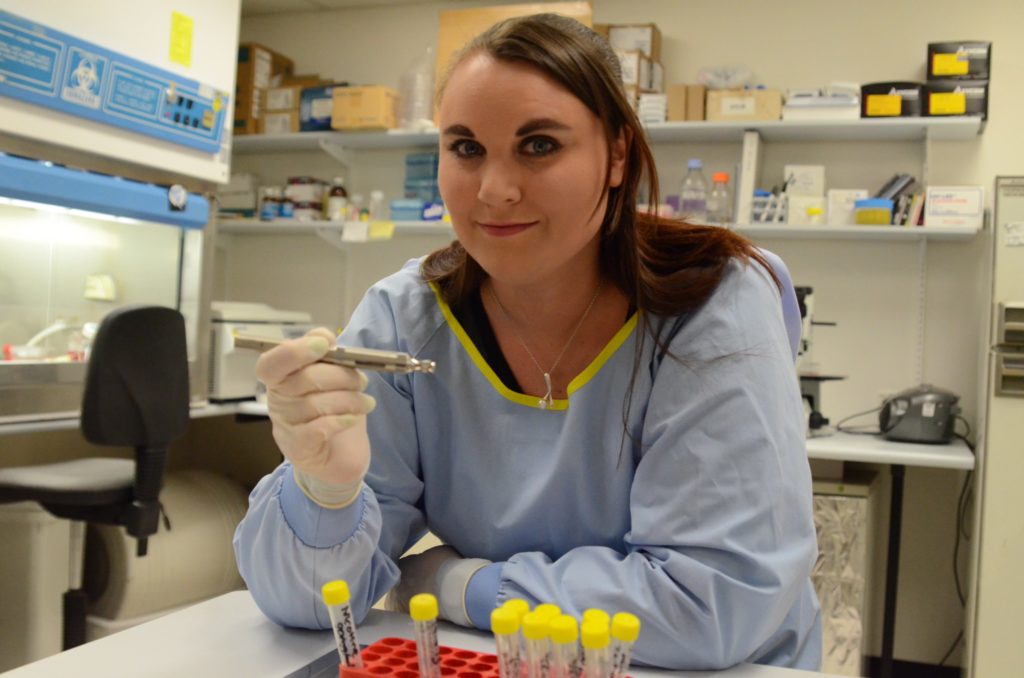 Thanks to your support, we're able to fund a variety of researchers working towards a common goal – the improved health and wellbeing of our community.
For Dr Miranda Ween, a researcher in the Lung Research Unit at the Royal Adelaide Hospital (RAH), her hope is to do just that, by investigating the effects of e-cigarettes on healthy lung cells.
"E-cigarette use is rising in Australia, with up to 13 per cent of the population having tried them. These users, or vapers, fall into two distinct groups, those who are using them socially, and those using them to quit smoking," Dr Ween said.
This research hopes to inform users of any health risks associated with e-cigarette use as well as informing policy to ensure e-cigarettes and e-liquids are safe for use.
"E-cigarettes are widely advertised as a safe and harmless way to quit smoking, however up to 25 per cent of those aged between 18 and 25 who have tried e-cigarettes say they are vaping more for the novel, fun, and social factors – not as a quitting tool," Dr Ween said.
"There is an astonishing lack of information regarding the safety of e-cigarettes and vaping and no laws or regulations in Australia that control what the e-cigarettes are made of or where the e-liquid ingredients come from. The e-liquids which are heated to produce the vapour also have no regulated quality control about which flavouring chemicals can be used, except that they cannot be sold in Australia if they contain nicotine, the addictive and toxic substance found in tobacco cigarettes.
"In fact, in South Australia, there is no age restriction for purchasing them and there are no rules about using them in public places, leaving it up to store and space owners to control this.
"We need to better understand the dangers of e-cigarettes as the more knowledge we have, the earlier regulations can be implemented to ensure that e-cigarettes are used in a safe manner and users are aware of any risks they may pose."
Dr Ween hopes that by pursuing research into this area, her team will be able to help draw attention to any potential risks of e-cigarette use.
"Data is starting to emerge that suggests that even non-nicotine e-liquids could be damaging healthy lungs and airways due to the heating of the flavouring chemicals and the chemicals they are diluted into – propylene glycol and vegetable glycerine" she said.
Dr Ween plans to examine what role vaping plays on the immune response in the lung using previously established scientific methods. She has already found that clearance of nasty bacteria which can cause pneumonia by specialised cells called macrophages is reduced when they are exposed to e-cigarette vapour. This result is similar to what she sees when the same cells are exposed to cigarette smoke.
"The results we find could be used to draw the public's attention to the fact that e-cigarettes are not as harmless as their marketing campaigns would have you believe, especially if you are not a smoker.
"100 years ago, tobacco cigarettes were promoted as being safe to smoke and today we know they're anything but that. We don't want to see a repeat of this tragedy and that's why this research project is extremely important to help users be aware of any risks from e-cigarette use."
With further funding in the future, Dr Ween hopes that she will be able to continue to extend her research into this area. For now, Dr Ween is very grateful for the research funding she has received thanks to your kind support. She was also the recent winner of the prestigious National Asthma Council & Thoracic Society of Australia and New Zealand Career Development Fellowship which will allow her to investigate whether E-cigarettes pose any risks to asthmatics.
For more information on e-cigarettes, please click here.