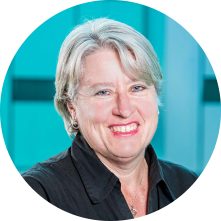 Cynthia Henderson
Manager, RAH Research Fund Newsagency
Cynthia is the friendly manager ensuring the store is a warm experience and much more than a shop.
She has worked in newsagencies since 1983 and brings a vast knowledge of store operations and experience with customer service and product range. She was awarded the 2013 South Australian Newsagent Employee of the Year by the Newsagents Association in recognition of her commitment to the industry.
The fact that profits from the Newsagency assist in the enhancement of patient care at the RAH is a great source of pride.  In fact, more than $1.4 million has been raised through Newsagency purchases. The Newsagency is also the shopfront contact for the RAH Research Fund.
Cynthia transitioned to the new RAH after serving at the former hospital newsagency since 1990 and has been managing the store since 2010. She loves working at the bright, new premises.
She says the customers really like the fact that they are making a contribution to assist our hospital and the care it offers simply by making a purchase of their favourite magazine or a lucky lottery ticket!
Sharing day-to-day chats with her customers is a highlight of her day – whether that's with a patient and their family to give encouragement during a challenging time, or connecting with one of the newsagent's regulars who are thought of very much as friends.
Away from the Newsagency, Cynthia is a tennis fanatic – playing twice a week and is in her 31st year as Secretary of Para Hills Tennis Club. A trip to the Australian Open is an annual event!  She is a Justice of the Peace and enjoys yoga, walking, reading, watching sports and spending time with her husband and teenage son.