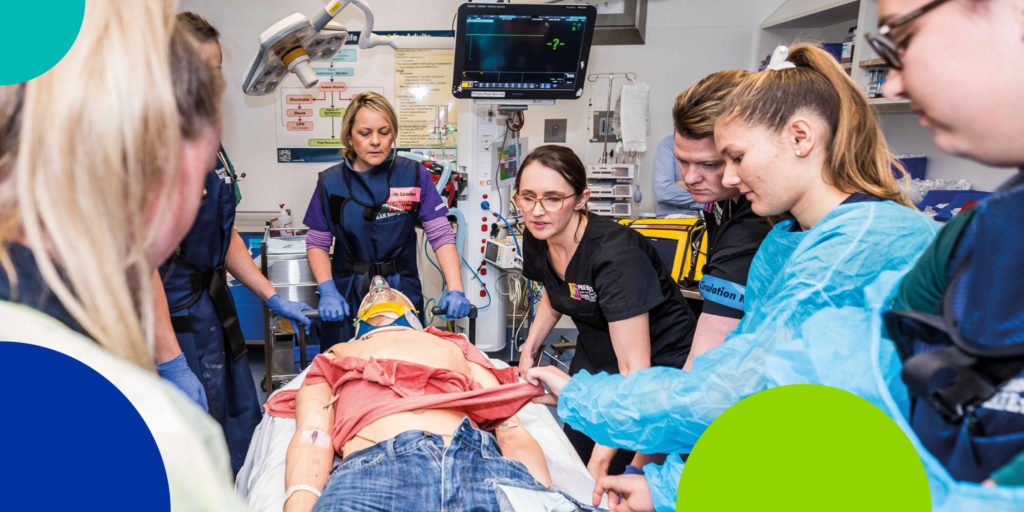 The P.A.R.T.Y. Program – saving young lives through risk prevention
The Prevent Alcohol and Risk-Related Trauma in Youth (P.A.R.T.Y.) Program is an intensive educational program that takes school students, aged 15-19, on a journey through the Emergency Department (ED) and Intensive Care Unit (ICU) at the Royal Adelaide Hospital (RAH).
The program originated in Canada more than 30 years ago in an effort to prevent the increasing number of deaths and trauma related injuries presenting at Canada's largest trauma centre. It now operates at the RAH as well as 15 other major hospitals across Australia including Flinders Medical Centre and Lyell McEwin Hospital in SA. Programs also run in some regional areas.
The P.A.R.T.Y. Program aims to increase the awareness of risk-related choices that can lead to devastating and traumatic consequences, by exposing participants to role-play scenarios and real-life outcomes. 
Students are given confronting and traumatic scenarios, including the aftermath of a high speed crash and a drug overdose. As they follow these stories over a full day, students help to care for and treat the traumatically injured 'patients' (using mannequins) – and see the devastating outcomes.
These are two real-life scenarios the students experience during their day.
---

Scenario One
Two young adults were driving down Main North Road after attending a friend's 18th party. Driver, 19-year-old male has admitted to drinking 6-8 beers. Police at the scene suspect patient was driving considerably above the speed limit, and has run a red light, lost control, hit a stobie pole at approximately 90-100kmph. Accident occurred at 01:19am. Unrestrained passenger, found in backseat, dead on South Australian Ambulance Service (SAAS) arrival.

Scenario Two
Patient, 18 years old, found lying on his back outside a house party in the city. Suspected to have fallen from second storey. Witnesses reported bizarre behaviour. There is concern he may have taken an unknown amount of an illicit substance, likely MDMA (commonly known as Ecstasy), along with alcohol. Friends have noted he isn't moving his legs and have called 000.
---
Students are on the frontline with these scenarios, sharing the experience with volunteer medical professionals. It is raw, emotional and has an incredible impact.
Students also meet community members who have suffered a traumatic injury, like Elise Kennedy, who along with her fiancé was admitted to the RAH in a critical condition after a head on crash, with horrific spinal and facial injuries, shattered bones and fractures.
Elise is one of several dedicated volunteers who share their story with students, enabling a personal connection and deepening the impact of risk-taking behaviour.
"These are young people just going out into the adult world of fun, parties, alcohol and drugs. P.A.R.T.Y. shows them a real scenario – exactly what could happen if they choose to take a risk."  Lani Hargrave RAH P.A.R.T.Y. Program Coordinator
---
Every young person we reach through the program walks out of the RAH with a different perspective on the value of life.
For more details on the program visit the P.A.R.T.Y. website
"If we can reach even one young person, make them stop and think before a risky, life-threatening choice, the life we save could be yours – or someone you love." Ali Barclay, P.A.R.T.Y. Statewide Co-ordinator 
---
Due to the COVID-19 pandemic, the P.A.R.T.Y. Program at the RAH has been suspended until further notice.
Register your interest in a future P.A.R.T.Y. session here