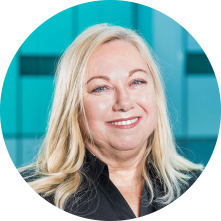 Toni Marafioti
Donor Administration & Support Officer
Toni Marafioti is pleased to be an integral part of a team that brings awareness of the benefits of medical research to the community.
To that end, she loves that through her role she can support the vital fundraising effort and ensure the lifeblood of research continues.
Shaped by her previous role as a Clinical Trials co-ordinator for more than 20 years in areas such as breast cancer, lung and gastrointestinal diseases, Toni is inspired by stories of hope and research benefits that impact the patient journey to healthier futures.  
She believes that building relationships brings out the best in people and engenders trust in the organisation.
Toni loves the interaction she is building with donors through her role – whether that's through thank you telephone calls,  assisting with functions or maintaining robust records as part of her many support tasks.
Away from work she loves spending time with family and friends. Enjoying nature and meditation enhances her quiet time. One of her joys is travelling and exploring new places.