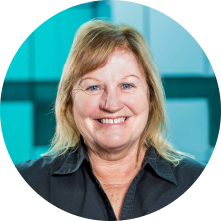 Vicki Sage
Data Administration Officer
Having previously worked with the Royal Adelaide Hospital (RAH) Research Fund from 2013 – 2017, at the old RAH, Vicki is thrilled to now be part of the team at the state-of-the-art hospital.
In her data processing role, assisting the RAH Research Fund administration team, she is revisiting many familiar donors and supporters in the wider hospital community. This provides a sense of fulfilment and satisfaction by engaging with donors, and processing donations from those that give generously to support medical research.
Before working at the RAH, Vicki had many years' experience in the Aged and Community sector, where she worked with elderly people and people with disabilities in care and nursing homes.
On the weekends Vicki and her partner enjoy cycling along the foreshore, enjoying the scenery and relaxing with a coffee afterwards.
Having young grandchildren also keeps them busy and they enjoy the special time of taking them to local playgrounds and parks.