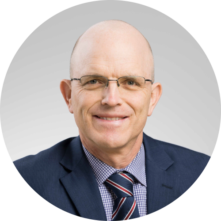 Professor Martin K. Oehler
Director of Gynaecological Oncology at the Royal Adelaide Hospital; Clinical Professor, Discipline of Obstetrics and Gynaecology at the University of Adelaide; Adjunct Professor at the Future Industries Institute of the University of South Australia.
Gynaecological Cancer
In Australia each year, about 1,600 women are diagnosed with ovarian cancer and 1,000 die from this disease. Research at the Royal Adelaide Hospital is focussed on early detection and more effective treatments to improve survival. 
Every nine hours, an Australian woman dies from ovarian cancer. Sadly, the majority of women with the disease are diagnosed at advanced stage and only have a 5-year survival rate of about 30%*.
In contrast, if the disease is detected early when it hasn't spread beyond the ovaries, the five-year survival rate exceeds 90%*.
Professor Martin Oehler points to a critical need for early detection and more effective treatments to improve the outlook for women with ovarian cancer.
"Early detection is the most effective means to improve survival," Professor Oehler says.
"Despite some developments in surgery and chemotherapy, ovarian cancer mortality rates have not changed considerably over the past two decades."
Research is being directed towards identifying ovarian cancer biomarkers which could lead to effective screening methods being developed.
Professor Oehler explains that autoantibodies produced by the body as an immune response against ovarian cancer may serve as sensitive markers for disease detection.
These autoantibodies are often more abundant than protein and peptide antigens secreted by the cancer.
This could lead to the presence of autoantibodies in ovarian cancer patients being a diagnostic marker for the disease.
The research is a collaboration funded by the Ovarian Cancer Research Foundation (OCRF) Australia, by Professor Oehler in conjunction with Professor Hoffmann, Strand Leader in Biomaterials Engineering and Nanomedicine at the University of South Australia's Future Industries Institute.
"Using the latest laboratory technology which analyses the proteins and peptides in the human blood, we have identified autoantibody candidates with high accuracy in detecting early stage ovarian cancer," Professor Oehler says.
"We are now in the process of developing a robust detection test with the aim to use it for ovarian cancer population screening."
Professor Oehler is also researching cancer immunotherapy or engineering the patient's own immune cells to recognise and attack tumours. This is being undertaken with Dr Carmella Ricciardelli from the Robinson Research Institute of the University of Adelaide and the Adelaide-based biotechnology company Carina Biotech.
The research is centred on developing a chimeric antigen receptor (CAR)-T cell immunotherapy, where the cells target a specific receptor on the ovarian cancer cells and are used either alone or in combination with established chemotherapies.
Novel targeted treatments directed against cancer-specific molecular cell changes is another area of Professor Oehler's research.
A characteristic of ovarian cancer is abnormal control of the cell cycle. Overproduction of an enzyme called CDK4, and its binding partner proteins, has been found to drive this aberrant process and is associated with a poor prognosis.
Professor Shudong Wang, Head of Drug Discovery and Development at the University of South Australia Cancer Research Institute has led a project developing several potent CDK4 inhibitors in the laboratory.
Professor Oehler is exploring with Professor Wang, how this novel targeted treatment can be used alone or in combination with established treatments against ovarian cancer.
He is also collaborating with Professor Stuart Pitson, Head of the Molecular Signalling Laboratory and Dr Melissa Pitman, Florey Fellow and Head of Drug Discovery in the Molecular Signalling Laboratory, from the Centre for Cancer Biology at the University of South Australia and SA Pathology, on overcoming chemotherapy resistance in ovarian cancer patients.
"Initial response to ovarian cancer treatment is high, but more than 75%* of patients eventually relapse," he says. "The clinical course of ovarian cancer is then marked by periods of remission and recurrence of shortening duration with the development of chemo-resistance, and ultimately a fatal outcome."
Certain lipids called sphingolipids have an important role in the transmission of molecular signals from a cell's exterior to its interior. The team is investigating the role sphingolipids could have in overcoming chemotherapy resistance and if they can be used as a target to re-sensitize cancer cells to such treatments.
Professor Oehler has an extensive track record of contributions to basic and translational research into gynaecological cancer and has published more than 150 scientific articles, chapters and books.
He graduated from the University of Bonn in Germany and trained in Obstetrics and Gynaecology at the Universities of Wuerzburg, Freiburg and Tuebingen in Germany.
Professor Oehler worked in cancer research at Baylor College in Houston/Texas, in the United States and at the Centre for Tumour Biology in Freiburg, Germany. He received a PhD for his work in cancer angiogenesis at the Institute of Molecular Medicine of Oxford University in the UK.
Professor Oehler subspecialised as Gynaecological Oncologist at Westmead Hospital in Sydney and Monash Medical Centre in Melbourne. He came to Adelaide in 2006.
*Source: https://ovarian-cancer.canceraustralia.gov.au/statistics