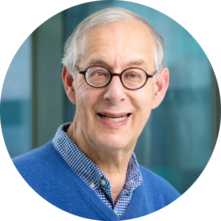 Professor Michael Horowitz
Professor of Medicine, University of Adelaide, and Director of Endocrine and Metabolic Unit, Royal Adelaide Hospital.
Gastroenterology
Pioneering studies into the relevance of stomach and intestine functions to diabetes, appetite regulation, ageing and critical illness by Professor Horowitz has led to fundamental changes in strategies for patient management. 
Diabetes is often called Australia's epidemic with 1.7 million Australians living with the disease. *
It's the leading cause of preventable blindness and can cause serious complications such as kidney and nerve damage.
Professor Michael Horowitz has an international reputation for his research, particularly pioneering studies relating to the impact of the rate of stomach emptying on gastrointestinal symptoms and blood glucose control in diabetes.
This research has led to fundamental changes in management strategies, many of which he initiated, particularly in the area of regulating emptying of food from the stomach.
"It is now appreciated that gastrointestinal symptoms such as nausea occur frequently in diabetes," Professor Horowitz said. "These can affect quality of life adversely and represent a major contributor to health care costs."
Diabetes is the most common cause of abnormally slow or delayed gastric emptying, known as gastroparesis. The rate of emptying of the stomach is a major determinant of the rise in blood glucose after a meal.
Gastroparesis can lead to debilitating nausea and poor control of blood glucose levels.
"The rate of stomach emptying can be modulated by diet, or drugs to improve glucose control, and thereby reduce the risk of the complications of diabetes such as eye, kidney and nerve damage," Professor Horowitz said.
Alongside usual treatments of insulin control and diet, Professor Horowitz's research has led to the development of drugs which can accelerate gastric emptying, to alleviate symptoms in diabetic patients.
In the area of diagnostics, he contributed to the development of a technique called  scintigraphy, which is now used routinely. This is where small amounts of radioactive tracers are added to a meal to enable measurement of gastric emptying accurately and non-invasively via a gamma camera
His career in research and translating the outcomes to patient treatments has spanned some 35 years, based in its entirety at the Royal Adelaide Hospital and University of Adelaide.
Collaboration and input from the RAH departments of gastroenterology, nuclear medicine, intensive care and radiation oncology have been fundamental to the success of his research.
He led the NHMRC Centre of Clinical Research Excellence (CCRE) in Nutritional Psychology, Interventions and Outcomes, which was the first CCRE to be awarded to South Australia in 2007. With his continued leadership, the subsequent CCRE in Translating Nutritional Science to Good Health (since 2012) has grown to include 22 investigators, nine postdoctoral fellows and 18 postgraduate students.
He has an extraordinarily productive publication record comprising 676 original papers, 41 book chapters and one book. He is among the top 50 cited scientists in Australia.
Professor Horowitz has been the recipient of many prestigious awards for research, including the Elder Prize for Scholarship at the University of Adelaide, the Distinguished Research Prize of the Gastroenterological Society of Australia, the Eric Susman Prize of the Royal Australasian College of Physicians (which recognises the most outstanding contribution to knowledge in any branch of internal medicine) the Kellion Award of the Australian Diabetes Society for outstanding contribution to diabetes research, a Masters Award from the American Gastroenterological Association for Sustained Achievement in Digestive Sciences and the Royal Australasian College of Physicians 75thAnniversary Award.
He was a finalist as South Australian Scientist of the Year in 2013 and 2014.
Professor Horowitz believes that his major contribution to research is his nurturing of the next generation of clinician scientists by providing sustained mentorship. Many of these are now independent leaders and investigators in their own right.
* Diabetes Australia. https://www.diabetesaustralia.com.au/diabetes-in-australia