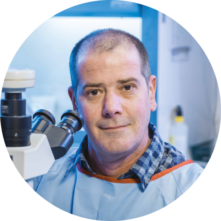 Dr Jason Powell
Head of Cancer Cell Signalling Centre within the Molecular Signalling Laboratory Centre for Cancer Biology.
> Acute Myeloid Leukaemia
The team at the Centre are developing possibly one of the world's first targeted treatments for Acute Myeloid Leukaemia – the cancer that tragically cut short the life of golfer Jarrod Lyle.
Dr Powell and his team have identified a protein that is hyper-activated in Acute Myeloid Leukaemia (AML). The research team is now focused on developing new drugs to target this protein.
Initial experimentation shows that these drugs can selectively target the leukemic cells and, unlike standard chemotherapies, have no detrimental side effects on normal cell function.
These drugs may be able to halt and reverse many sub-types of AML and prevent their return after remission.
The early signs are there that it could become one of the world's first targeted treatments for AML.
The research focuses on identifying cellular pathways that promote uncontrolled growth of leukaemic cells aiming to treat this aggressive form of leukaemia.
"Chemotherapy has been the main front-line therapy for cancer patients for several decades now," Dr Powell said.
"But despite putting patients into remission, it has many debilitating side effects, and often patients relapse and succumb to the disease.
"I, and my fellow researchers, want to improve those outcomes for people. We're aiming to develop new therapeutics that – unlike chemotherapeutics – specifically target cancer cells, while sparing normal cells."
Dr Powell graduated from the Department of Genetics, Adelaide University in 2004, where his work focused on identifying drug targets in breast cancer. He then took up a post-doctoral research position in the Centre for Cancer Biology.
He has published more than 40 research manuscripts, including in prestigious international medical journals such as Cell, Blood and Cancer Research.