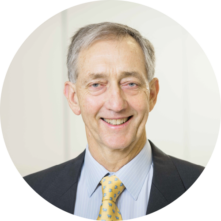 Dr John Bolt
Head of the Urology Unit, Royal Adelaide Hospital
> Prostate Cancer
The Urology Unit is transitioning traditional surgery to modern, minimally invasive robotic surgery, with many benefits for patients.
Urologist Dr John Bolt has a keen interest and expertise in robotic surgery and its impact on patient recovery.
The use of the technology brings many benefits, which can include shorter hospital stays, reduced pain and discomfort from less invasive surgery, faster recovery times, smaller incisions and resultant less blood loss and potential for infection.
"The robot has been a major advance in minimally invasive surgery and improving the efficiency and learning curve of these skills in the practising urologists," Dr Bolt said. "Patients have made huge gains in rapid recovery and shorter hospital stays."
While urology has evolved into many sub-speciality areas, Dr Bolt has been able to embrace a broad range of operations and technologies.
Cancers and non-malignant diseases of the urinary system and male reproductive organs can affect some of the most private and personal bodily functions.
Reducing pain and infection from urinary tract stone disease, reducing incontinence, and improving voiding disturbances such as frequency, urgency or urine retention can greatly improve patients' quality of life.
Technology is making a significant difference to the way the diverse range of urological diseases are treated.
"Over the past 30 years, the advent of new stone treatments with percutaneous (through the skin) and shock wave treatments have been revolutionary," Dr Bolt said. "Improvements in endoscopic technology and laser treatments have made profound differences in stone disease.
"As well, improvements in chemotherapy and drug treatments with advanced cancer treatment have been dramatic in the past 15 years."
Dr Bolt completed his medical training in Australia and the United States and trained on the Da Vinci surgical robot in Hong Kong.
He has more than 30 years' experience in major urologic oncology affecting the bladder, kidney and cancers of the prostate and testes.
He also has special interest in the management of stone surgery and lower urinary tract symptoms in men and women.
His special interests include prosthetic surgery for impotence and incontinence, neurological bladder dysfunction and microsurgery for vasectomy reversal.
A consultant urologist at the RAH since 1989, he was recently appointed head of the Urology Unit. His private Urological practice, which has been running for more than 30 years, is Australia's first stand-alone Urology day surgery.
Dr Bolt has presented at national and local meetings his experience in surgical management of bladder cancer, including new bladder reconstruction.