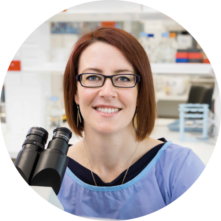 Dr Melissa Pitman
Head of the Drug Discovery Unit within the Centre for Cancer Biology's Molecular Signalling Laboratory
> Ovarian Cancer
Ovarian cancer is a devastating disease that has been dubbed the "silent killer". Dr Pitman's team is focused on developing more weapons in the treatment arsenal and improving patient outcomes.
Ovarian cancer is the eighth most common cancer affecting women in Australia. In 2015, 1,365 new cases of ovarian cancer were diagnosed in Australian women. On average, four women are diagnosed every day in Australia.*
Often there are no obvious signs and ovarian cancer patients are frequently diagnosed at a late stage when the tumour has spread throughout the abdominal cavity.
Dr Pitman and her team are working in close collaboration with Professor Martin Oehler, Director of Gynaecological Oncology at the Royal Adelaide Hospital, to discover better treatments for ovarian cancer.
Depending on the extent of spread, current treatments include surgery, chemotherapy and radiation.
"Our work is focused on targeting disease in patients that have developed chemotherapeutic resistance to give patients a better outcome," Dr Pitman said.
The research focus is on the enzyme Sphingosine kinase 1 (SK1), which regulates proliferation, migration and survival of cells in humans. Levels of SK1 have been shown to be elevated in a variety of human tumours. The team discovered that an important partner for SK1, a protein called CIB2 that acts as a natural "hand-brake" to switch off SK1, appears to be lost in ovarian cancer.
This then led to the discovery that SK1 was helping ovarian cancer cells to thrive, migrate and resist chemotherapy treatment through this mechanism.
"This finding may explain why some patients respond to treatment while others are resistant," Dr Pitman said.
The team aims to develop a drug to suppress the effects of SK1 to enhance the effects of treatments such as chemotherapy.
"To help patients in the clinic, it is important to dig deep to find the chinks in the armour, so we can find new ways to target the disease and develop new treatment options," Dr Pitman said.
"Our ultimate aim is to save women's lives by giving them better treatment options for ovarian cancer.
"Patients will have a range of responses to chemotherapy. For those that don't respond, there is a poor prognosis so there is a real need to have more weapons in the arsenal to tackle the disease and improve patient outcomes."
The team has made some headway in finding a target in ovarian cancer and studying how blocking it can help kill cancer cells when combined with chemotherapeutics. Further testing will be undertaken so the inhibitors can be taken to clinical trials.
Because SK1 is known to contribute to other cancers, the team is hoping to test their inhibitors in other devastating cancers such as brain cancer and acute myeloid leukaemia, which are also research endeavours in the Molecular Signalling Laboratory at the RAH.
This year, Dr Pitman was awarded a Florey Fellowship and a Clinical Project grant from the Royal Adelaide Hospital Research Fund, to support the team's ovarian cancer work.
Dr Pitman graduated with a PhD from Flinders University in 2009 and has a Bachelor of Science (Honours) in Bioinformatics and Molecular Biology.  A recipient of almost a dozen awards and prizes, she has contributed more than 30 journal articles and conference presentations.