Lady luck shines with big Lotto wins!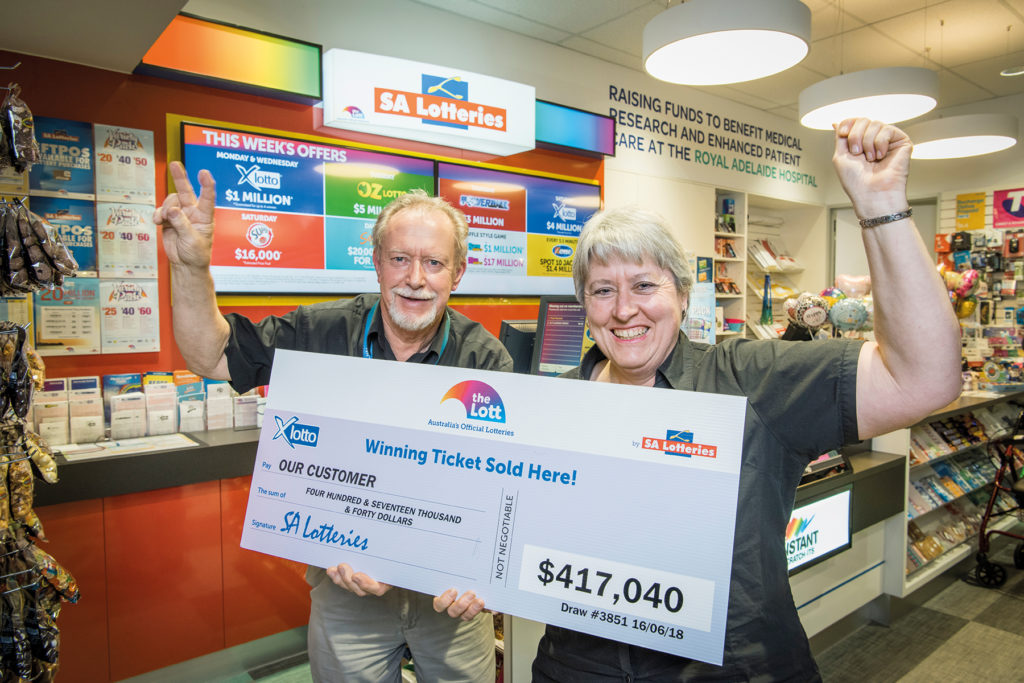 It's a winner! (L-R) Newsagency staff Graham and Cynthia celebrate the big Lotto prize.
Lady Luck shone on the Royal Adelaide Hospital (RAH) Research Fund Newsagency recently with two big lottery wins for customers – all within a fortnight!
A lucky customer picked up a Saturday X Lotto Division 1 prize of $417,040 – their ticket to enjoying life and moving to part time work.
That topped a win the previous week when another lucky customer picked up a Division 2 Saturday X Lotto prize of $10,053.
The newsagency manager Cynthia Henderson said the team was thrilled for their winning customers.
"We were so excited to hear the news, and couldn't stop smiling all day. To have two wins – including the big one – so close together was a bit of a nice shock," Cynthia said. "It was certainly a talking
point around the hospital!"
It's the first Division 1 prize win at the lotto agency and Cynthia says who knows, the next winner might be just around the corner.
The Newsagency is located on Level 3 of the RAH, conveniently next to the public dining area. Profits from the Newsagency benefit medical research and enhanced patient care at the RAH.
As well as stocking a range of newspaper, magazines, cards, gifts, books and other merchandise, the Newsagency provides services such as SA Lotteries agency, Australia Post CPA, Parcelpoint/Toll/TNT parcel pick up and drop off agent, and dry cleaning.
Please Gamble Responsibly.