CRAB: Cancer Research Advocate Bikers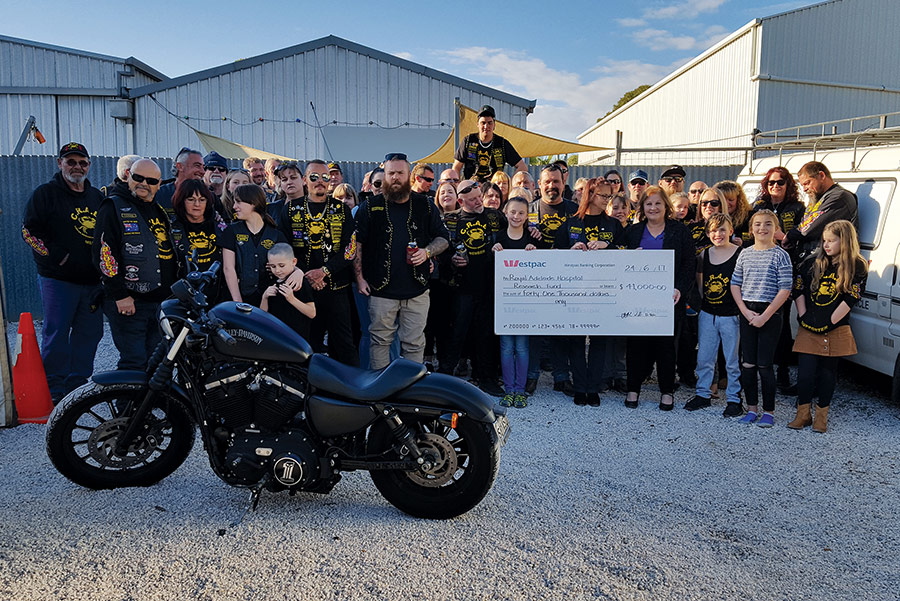 Background
Cancer Research Advocate Bikers (CRAB) is a not-for-profit organisation that was originally founded in Queensland by a biker named Robbie Grimstone in 2004.
After losing his mother, Shirley, to cancer, Robbie was motivated to raise money for cancer research in the hopes of finding a cure. He recruited a few likeminded mates and CRAB was born.
In the ensuing years, the group's spirit and good works have spread far and wide. There are now four CRAB branches in Australia, and even one in Switzerland. Embracing the group's acronym, each branch is named after a different type of crab:
In Victoria it's the Mornington Peninsula Hermits.
In NSW there are the Kingies in Bermagui and the Yabbies (clearly honorary crabs!) in the Riverina.
Switzerland has the Hummers.
Here in South Australia we've got the Blueys'.
"It means a lot to us to support the RAH Research Fund.
Many of us have been touched by cancer in some way, so we're all passionate about helping to improve treatment and find a cure."
Heather Kemble, Treasurer CRAB (SA)
What have they raised?
A lot! To date, the group has contributed a staggering total of over $140,000 to the RAH Research Fund, including an incredible $41,000 this year alone.
All the Blueys' donations go directly to the Hanson Institute for cancer research at the Royal Adelaide Hospital, with a particular focus on prostate and testicular cancer.
How have they raised it?
Many people volunteer their time to help the Blueys' raise money, conducting two major family-friendly, community-based bike runs every year—the "Testi-Kool" run" in February and "Roll the Dice" in October.
The group also donates earnings from flag marshalling at local motocross meets, and regularly raffles donated goods.
Going above and beyond
Even within a group as generous as the Blueys', this young member's efforts stand out. Earlier this year, 11-year-old Tansy personally raised $2,630 for the Research Fund by cutting her hair, and then also donated that hair to the RAH so that it could be made into a wig for cancer suffers—truly inspirational.
We couldn't be more grateful for CRAB's truly phenomenal effort.
Thank you, Blueys'!