Behind the Microscope is a series of conversational events to connect donors and the general public with our world-class researchers.  It's your chance to hear how your valuable support is making a difference and to hear about the latest advancements in medical research.
---
COVID-19 (coronavirus) Update
In response to COVID-19 (Corona) virus the Royal Adelaide Hospital (RAH) Research Fund has postponed all Behind the Microscope events until further notice.
For the latest information on COVID-19, please refer to the trusted sources below:
---
Upcoming topics & presenters
Visit our events page here to view upcoming topics & presenters
---
Have you missed one of our events?
Please feel free to watch these informative sessions here:
Behind the Microscope 1:
Dr Melissa Pitman – June 2019
Topic: Discovering better treatments for ovarian cancer
---
Behind the Microscope 2:
Associate Professor Tarik Sammour – August 2019
Topic: Patient centred outcomes in colorectal surgery
---
Behind the Microscope 3:
Professor Susanna Proudman – October 2019
Topic: What patients can teach us about autoimmune diseases such as crippling rheumatoid arthritis
---
Behind the Microscope 4:
2018 & 2019 Research – December 2019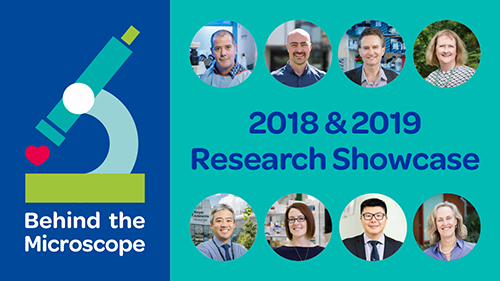 This special Behind The Microscope event featured seven of the RAH's brightest minds and world-class researchers discussing the following topics:
Rare Cancers by Prof Michael Brown
Gastroenterology and Inflammatory Bowel Disease by Professor Jane Andrews
Chronic Liver Disease by Assoc Prof Eddie Tse
Acquired Brain Injury by Dr Maggie Killington
Ovarian Cancers by Dr Melissa Pitman
Acute Myeloid Leukaemia by Dr Jason Powell
Lung Disease by Dr Eugene Roscioli
Click here to watch a snapshot of their presentations and hear about the exciting possibilities for better treatments, greater wellbeing and potential cures.
---
Behind the Microscope 5:
Professor Robert Casson – February 2020
Topic: Finding new treatments for blinding eye diseases such as glaucoma and retinitis pigmentosa