A New Way of Detecting Blinding Eye Disease – Thanks to You!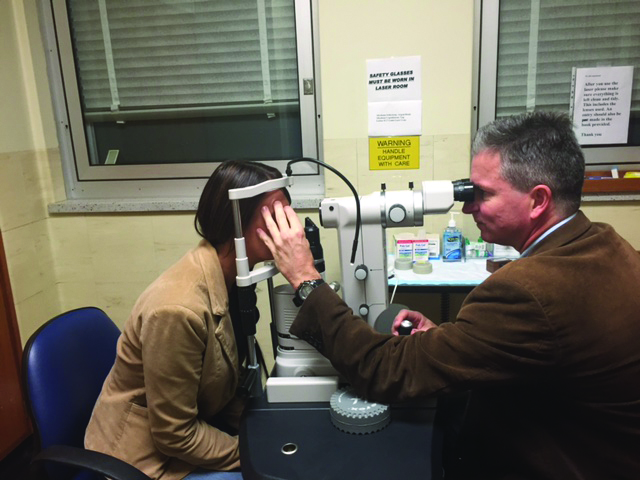 Professor Robert Casson from the Royal Adelaide Hospital is on a mission to protect one of our most important assets – our eyes. With the support of a 2016 RAH Research Fund Impact Grant, Prof Casson is researching a new technique for detecting two of the most common blinding eye diseases affecting Australians.
"This funding will allow us to develop a brand new technique to detect and monitor blinding eye diseases of the retina and optic nerve. The diseases we are particularly focused on are glaucoma and macular degeneration, which are the leading causes of blindness in Australia," Prof Casson said.
Glaucoma is the name given to a group of eye diseases that result in destruction of the eye's optic nerve (the cable of nerve fibres connecting the eye to the brain).
Macular degeneration relates to diseases of the retina (part of the eye that receives visual light and records messages). Currently both of these diseases tend to remain undiagnosed until irreversible damage has already occurred to a person's vision.
The current imaging device used to detect glaucoma and macular degeneration can see the structure of the eye but it can't provide information on how the nerve fibres or retina cells are feeling on any given day.
"It may be the case that you look at someone's eye and everything looks fine, but then months or years later they've lost a nerve fibre or retina cell which they can never get back," Prof Casson said.
"This means that generally patients are only diagnosed with these blinding eye diseases once these nerve fibres or retina cells have been lost, meaning the damage to their vision has already been done."
Thanks to this funding from the RAH Research Fund, Prof Casson says his team can develop a brand new technique to detect and monitor these two diseases.
"What we are looking at is a device that provides real time information about how these nerve fibres and retina cells are feeling at any given time. A device that patients could sit at non-invasively and within minutes the specialist could receive the information needed to help make decisions for treatments," he said.
What Prof Casson is referring to is hyper spectral imaging, which is currently used in space science and is now being applied to medicine.
"This new technology will allow us to look at somebody before any permanent damage has occurred and say to the patient – yes you have glaucoma or macular degeneration, let's treat you right now," Prof Casson said.
The other benefit of hyper spectral imaging is that it doesn't use any powerful radiation or any harmful techniques, it just uses visible light.
"Once the pattern of disease is recognised by the new technology we think it could be translated quickly to clinical practice and make huge and exciting changes to healthcare in this area," Prof Casson said.
"Receiving this award through the RAH Research Fund was extremely exciting and valuable to us and I thank everyone who supports our research. Government funding is very hard to get, so receiving this support is critical to the type of clinical research that we do."
We look forward to updating you on Prof Casson's very exciting work!