Celebrating International Year of the Nurse and Midwife 2020
We are proud to introduce new Nursing Scholarships, a new way for our dedicated nurses to have a greater impact on improved patient experiences in our South Australian hospitals.
Our nurses have patient care and experience at the heart of everything they do, and many nurses have fantastic ideas to improve patient care even further.
To help make some of these ideas a reality, and to celebrate International Year of the Nurse and Midwife 2020, South Australian nurses now have the opportunity to be awarded Nursing Scholarships to develop new innovations and advances in patient care.
Click here to support our nurses
The best ideas, chosen by a highly qualified panel, will be funded for development, enabling our nurses to make an even greater impact on the health of our state, for you and your loved ones.
Dedicated nurses like Bernadette (Bernie) Fernandez, Nurse Unit Manager for General Medicine at the Royal Adelaide Hospital (RAH) and Amanda Fleming, Accredited Nurse in General Medicine are enthusiastically waiting for the opportunity to suggest their own ideas.
For Bernie, a career in nursing was 'meant to be'. Both of her parents are health professionals, and her two sisters are nurses, so Bernie knew this was what she wanted to do with her life, too.
"I have always had a passion for helping other people and making a difference in their lives. I enjoy bringing happiness to those in need," said Bernie.
Bernie frequently has ideas she believes would make her patients feel even better.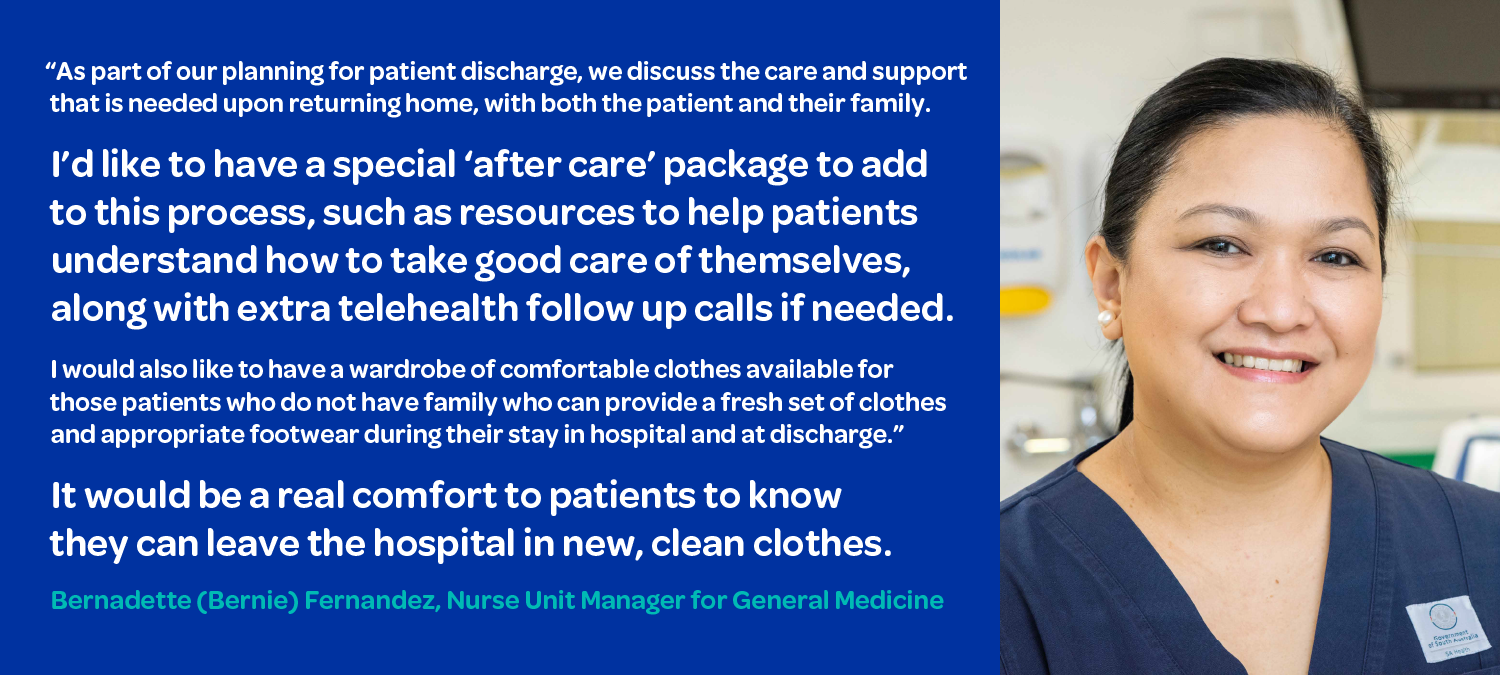 Amanda Fleming is another passionate nurse who cares deeply about making her patients feel comfortable and happy. Amanda has worked her way up to the qualification of Accredited Nurse at the RAH after beginning her nursing journey with a VET Course in Year 11 and 12.
Amanda says that each nurse in General Medicine has a 'portfolio' responsibility and spends time considering ideas to improve patient care and experience.
One of Amanda's most recent initiatives was a palliative care box developed to provide extra comfort for palliative care patients on her ward, containing relaxing music on CD's, a special blanket and essential oils.

We need your help to enable nurses like Bernie and Amanda make an even greater impact on the health of our state, for you and your loved ones.
Please donate today so together we can make a difference and change lives.