The RAH Saved My Life Four Times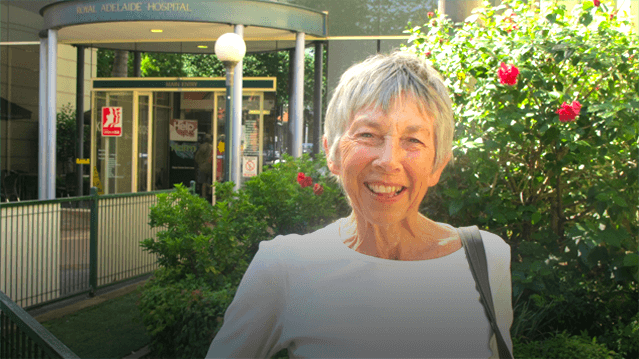 For Pat Goodwin the Royal Adelaide Hospital (RAH) and the hardworking researchers supported by the RAH Research Fund hold a very special place in her heart, having saved her life on four separate occasions.
Despite suffering from crippling headaches throughout her life, it wasn't until her early 40's that Pat discovered she had been living with a brain aneurysm, a weakness in the connecting artery in her brain.
"In those days doctors couldn't explain what was wrong. They didn't have the technology to do so," she said.
"One day when I was in my early 40's I felt like my head exploded, and then I went unconscious. Luckily the ambulance was close to my house and I made it to the RAH very quickly."
At the time the RAH was one of few hospitals to have the newly developed CAT (computerised axial tomography) and CT (computerised tomography) scans that took data from X-ray images of Pat's brain and converted them to a picture on a monitor.
This advancement in technology enabled doctor's to confirm Pat had suffered a burst brain aneurysm, something she had been living with since birth.
"I was at the RAH for about a month, I had the burst aneurysm clipped.
"After that I went back to my life. It was very hard to get back to a full professional career but thanks to the wonderful people, treatment and care at the RAH I managed it," Pat said.
Moving to picturesque Kangaroo Island with her husband in 2009, Pat was at the gym when she suffered a sudden second burst aneurysm.
"It was nothing like the first one, but I knew what it was straight away."
Travelling to the RAH with the Royal Flying Doctor Service, Pat saw firsthand the medical advancements which had occurred over the thirty years since her last visit.
"This time the burst aneurysm in my brain was coiled, last time it was clipped because they didn't have coils in those days.
"It was so much easier on me; I was out of hospital in 10 days. I owe that to medical research. But the RAH hadn't finished with me, and I hadn't finished with it."
Only a year later Pat was diagnosed with colorectal cancer and found herself back at the RAH.
"I had a wonderful surgeon and team, I was only in hospital for two weeks before I was back at home teaching yoga and doing everything I was doing beforehand," Pat said.
"Then one day when I was about to go to the gym I got a pain all the way around my abdomen.
"After a week in the local hospital I was going downhill so they flew me to the RAH where again I had big surgery to fix a blockage."
Not planning to return to the RAH any time soon, Pat now continues to support the RAH Research Fund to ensure medical advancements, like the ones she has benefited from, continue long into the future.
"When I saw in the newsletter you were looking for people to share their experiences with the RAH I thought it was the perfect opportunity for me to express my appreciation for all to hear.
"I now lead the world's most wonderful life and I enjoy every minute of it.
"I can't express my gratitude enough – I owe my life to the RAH and medical research."