World First Finding – A Hidden Protein Promoting Cancer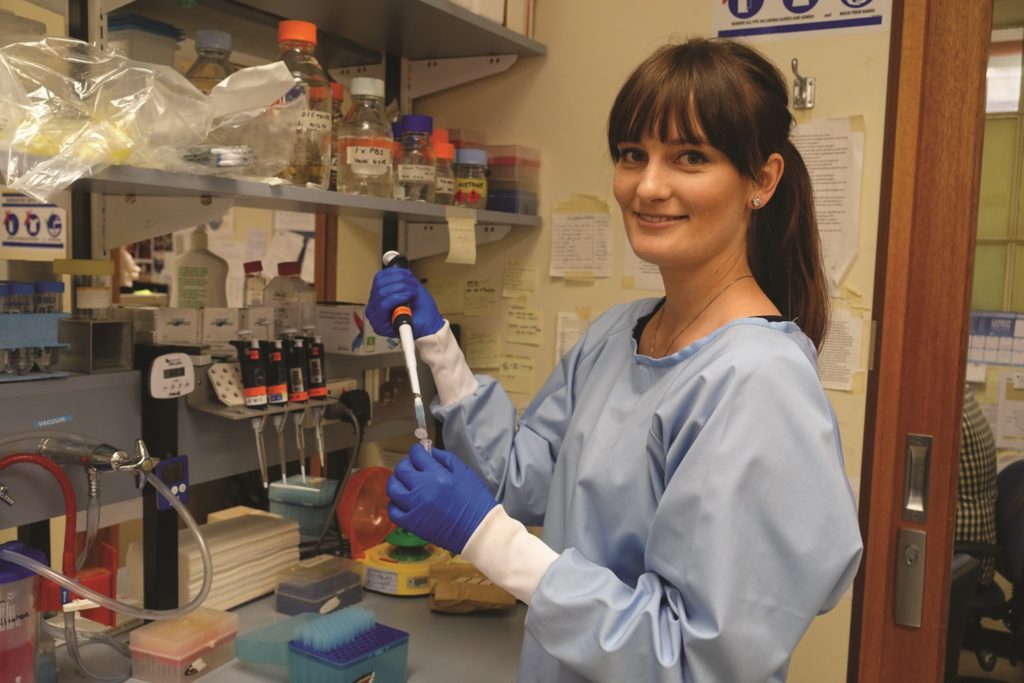 PhD Candidate from the Centre for Cancer Biology (CCB) Heidi Neubauer has led a world-first discovery proving a protein plays a pivotal role in the growth of cancer tumours.
"Within our lab we work on a family of proteins, and the protein that I've been working on hasn't been well studied so no one knew what its true functions were in cancer," Heidi said.
This family of proteins is called sphingosine kinase and they are the research interest of the Molecular Signalling Laboratory at the CCB where Heidi is based.
Whilst we've previously met with researchers studying sphingosine kinase 1 (SK1), Heidi is the first to look at another type of the protein – sphingosine kinase 2 (SK2). This research is only possible with your kind support – thank you!
"We already know SK1 plays an important role in cancer growth and survival, but this other protein, SK2, has been previously thought to cause cell death," Heidi explained.
"In my project I showed for the first time that surprisingly this protein can cause cancer as well. It can drive cancer progression and based on other work in our lab it seems to have important roles in multiple myeloma and brain cancer."
Typically if researchers are looking for a protein that will play an important role in cancer, they look for those that have elevated levels present in the cancer, however, this protein does not always seem to function in this way.
"What I've found to be important is where SK2 is located inside the cancer cell. It actually seems to switch where it lives, and there is a particular location where it in fact helps the cancer to survive and grow," Heidi said.
"We think the cancer cells are working out ways to push SK2 to only the spots where it will promote survival, therefore giving these cells the advantage to keep surviving and the cancer to grow."
Now understanding how this protein works, Heidi has published her work and believes her discovery will help to form the foundation for future treatments that will target cancer in different ways.
"This discovery adds an extra layer of complexity in that, just because the levels of a protein aren't highly increased in cancer, it doesn't mean it's not playing an important role," Heidi said.
"Now that my work is published, researchers and clinicians can see there is clear evidence that therapies to block SK2 as well as SK1 will be beneficial in treating cancer. This was previously unclear because the true roles of SK2 in cancer were not well understood.
"Having this better understanding of SK2 will hopefully lead to the development of new therapies and new ways to target cancers where the protein is present. That's the hope!"
Ground-breaking discoveries like this are only possible with your support, thank you! Thanks to Heidi's discovery, researchers at the CCB are developing therapies to target SK2 and SK1, hoping to push these to clinical trials as soon as possible.